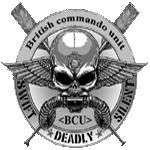 The British Commando Unit was first founded on the 10th May 2006 by Dave Wheddon aka St1nger. He had Hellcat.sp and Stagman as Admins with Bullettmagnet and Jpad as the other members.
In 2007 Megaboost took over the leadership of the squad with Phantom as his number 2. The squad played many games but based mainly around Delta Force Extreme for the next two years.
In September 2009 after some internal politics Megaboost decided to disband the BCU and start afresh with another squad called Global Core Gamers or GcG. Players went their different ways and unfortunately some ill feelings were had between individuals.
On the 16th November 2012 Bulldog1 with Stagman decided to restart the BCU squad. There was still a bit of friction between some ex members but the squad it is today began to take shape. There was a period where the squad renamed itself and changed from Kingdom of Warriors(KoW) and Bully and Friends(BAF). In the end after a player called Fisher Creek, suggested that the BCU should be brought back. After great thought Bulldog1 decided the squads name should revert back to the British Commando Unit. This took place on the 23rd February 2015.
We are now going very strong with a membership of around 30 of which 20 can be regularly found in game or on Teamspeak. It is not without the great friendship and support from the members that the BCU is what it is today.
A FAMILY OF FRIENDS